Last Tuesday we had a fantastic turnout of friendly, interesting folks at our first-ever Northern Colorado HubSpot User Group meeting, held at One Tribe Creative in Old Town Fort Collins. We were happy to see some familiar faces, as well as meet new colleagues!
Noshing on sandwiches kindly provided by Backcountry Delicatessen, beer from Coopersmiths Pub & Brewing, and scooping up Koozies from HubSpot (Thank you sponsors!), everyone mixed and mingled for a little bit before Jaime and Nichole started the presentation.


---
Presentation & Discussion
We've uploaded the presentation from the evening. Please click below and fill out a short form to view it! In future presentations we hope to record the presentation for sharing after the fact.
After the presentation, the meeting was opened up and we hosted a lively Q & A for about 40 minutes. Only about half of the participants were currently using or had used HubSpot in the past
(see? non-HubSpot folks very welcome!)
. Everyone was uber-helpful.
Don't forget to join our LinkedIn Group for in-between meeting discussions and sharing!
---
We need your help…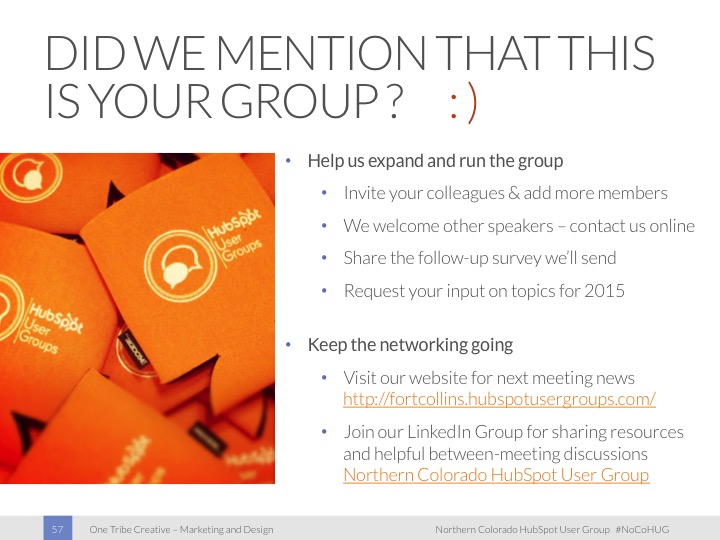 Slide from the evening - We need your help to run this group

While One Tribe Creative is managing the NoCoHUG, this is YOUR group. We welcome your input on how to make this group most helpful for you. After the Q & A, we asked attendees to fill out a short survey asking them what topics they would like to learn more about in future presentations.
We have an online version of this survey that we would like to invite YOU to fill out here:
---
Meeting Resources
In addition to the presentation, we referenced several other resources and examples of HubSpot implementations. Here is a list of some of those references:
Until the next meeting - we'll leave you with the following video as inspiration: